The Biogas Residue Dryer is the product that Honke Machinery produces which can be used in agriculture. The difference between the biogas residue dryer and the ordinary Rotary Dryer is that it has more crushing devices than the ordinary rotary dryer and is the necessary equipment for the production of organic fertilizer. The biogas dryer can directly dehydrate and dry up the biogas residue with 70% -80% moisture content to 13% of the water content directly at one time, and the whole process is carried out in the closed system, thus reducing the pollution to the environment during the drying process.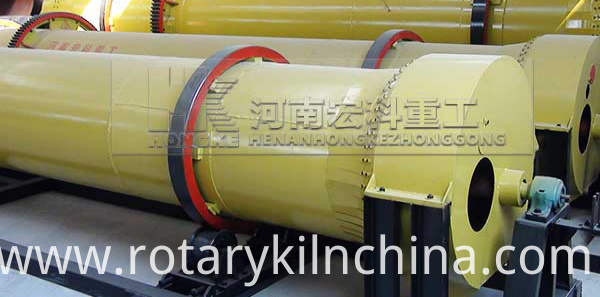 Working Principle of the Biogas Residue
The biogas residue dryer takes the wet material of the dry residue from the belt conveyor or bucket elevator to the hopper. Then the material enters the feeding end through the feeding pipe in the feeder of the hopper. The slope of the feeding pipe is greater than the natural inclination of the material so that the material flows into the dryer. The dryer cylinder is slightly inclined to the horizontal line. The material sand and stone equipment is added from the higher end. The heat carrier is entered from the low end, and the material is in reverse contact with the material, and there also exists that the heat carrier and the material flow into the cylinder together.
With the rotation of the cylinder, the material moves to the bottom end by gravity. In the process of moving forward, the wet material in the biogas residue dryer obtains the heat directly or indirectly. Therefore, the wet material can be dried and then sent out through the belt conveyor or the screw conveyor at the discharging end.
Performance Characteristics of Biogas Residue Dryer
1. High degree of mechanization, large production capacity and continuous operation of the biogas dryer.

2. Excellent structure, simple, material through the cylinder resistance can achieve smooth operation, easy to operate.
3. The dryer has few faults, low maintenance cost and low power consumption.
4. Wide range of application, good uniformity of product drying.
5. Drying can also achieve the purpose of sterilization and deodorization.
Technical Parameters of Biogas Residue Drying Machine
Type

Handling Capacity
(t/h)

Feed Moisture
(%)

Discharge Moisture
(%)

Mainframe Motor
(kw)

Reducer
(JZQ)

Stirring Motor
(kw)

Φ800*6m

1.0-1.5

70±5

15±5

5.5

250

2.2

Φ1000*6m

1.5-2.0

70±5

15±5

7.5

250

3

Φ1200*6m

1.8-2.5

70±5

15±5

11

350

4

Φ1500*6m

3.0-3.5

70±5

15±5

18.5

500

5.5

Φ1800*6m

3.5-4.0

70±5

15±5

22

650

7.5

Φ2000*6m

5.0-6.0

70±5

15±5

30

650

11

Φ2200*6m

6.0-7.0

70±5

15±5

30

650

11

Φ2500*6m

10-12

70±5

15±5

37

750

15

Φ3200*6m

18-20

70±5

15±5

45

850

22
Product Categories : Rotary Dryer