Chicken Manure Dryer is one kind of well-selling products in Henan Hongke Heavy Machinery Co., Ltd., which has gained good reputation for good quality and good service.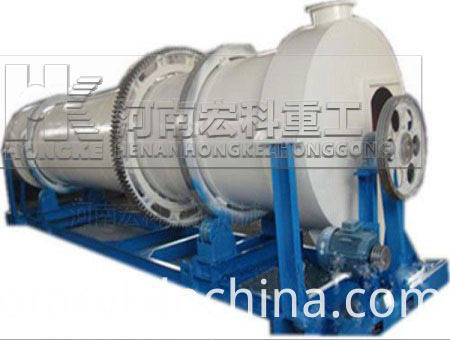 About Chicken Manure Dryer

The purpose of the dryer is to dry chicken dung, adding chemical fertilizer accessories to make fish feed, fruit tree feed, etc. The biggest performance feature of chicken manure dryer is to deodorize and dedust. Fresh chicken manure can be changed to pig feed, and the waste can also be organic fertilizer. Chicken manure dryer can dry up 70-80% water content of feces to 13% water content of feces. The whole running process of chicken manure dryer should be in a completely closed state, which can not onlyreduce the pollution of the environment, but can also play the role of energy conservation and environmental protection. Chicken manure dryer is the necessary equipment for making pure chicken manure.
Main Features of Chicken Manure Dryer
1. High degree of rotary drying mechanization, large production capacity and continuous operation.
2. Excellent structure, simple, material through the cylinder resistance smooth operation, easy to operate.
3. Low fault, low maintenance cost and low power consumption.
4. Wide range of application, good uniformity of product drying.
5. Saving energy and environmental protection, improving the utilization rate of waste, and reduce the cost of agricultural operation.
6. Making use of natural fertilizer increases production and income of agriculture and produces greener and healthier agricultural products .
Technical Parameters of Chicken Manure Dryer
Specification

Handling Capacity
(t/h)

Feed Moisture
(%)

Discharge Moisture
(%)

Mainframe motor
(kw)

Reducer
(JZQ)

Agitating Motor
(kw)

Φ800*6m

1.0-1.5

70±5

15±5

5.5

250

2.2

Φ1000*6m

1.5-2.0

70±5

15±5

7.5

250

3

Φ1200*6m

1.8-2.5

70±5

15±5

11

350

4

Φ1500*6m

3.0-3.5

70±5

15±5

18.5

500

5.5

Φ1800*6m

3.5-4.0

70±5

15±5

22

650

7.5

Φ2000*6m

5.0-6.0

70±5

15±5

30

650

11

Φ2200*6m

6.0-7.0

70±5

15±5

30

650

11

Φ2500*6m

10-12

70±5

15±5

37

750

15

Φ3200*6m

18-20

70±5

15±5

45

850

22
Product Categories : Rotary Dryer