Hen an Hongke Heavy Machinery corporation has been dedicated to develop Block Making Machine for more than 30 years. For years, lots of research efforts focus on the automation and performance of block making machine. Now our company can provide the simple semiautomatic block production line and the complete fully automatic block production line for our clients.
The host machine can produce different size of Hollow blocks, Solid bricks, Porous blocks, Grass bricks and some Paving stones, just need to change the mould can produce the prouducts which you want.
Working Principle ofbrick making machine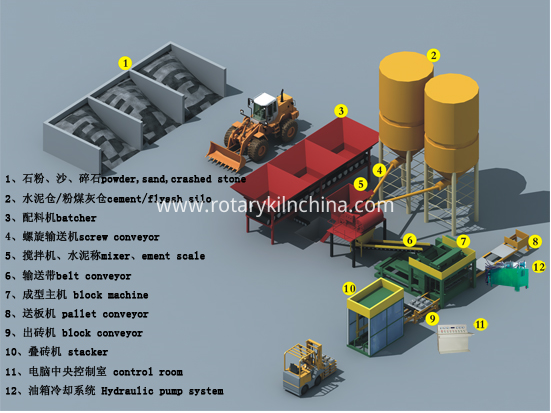 This device Uses slag, fly ash, sand, gravel, cement and others as raw material, through the stirring in proportion and the molding under high pressure, to complete the brick making.
Features and Advantages of Brick Making Machine
Hongke brick machine, has special advantages as follows:
A. Unique structure with multi-row of mixing forks in material box. When material box is sent to above of the molding box, these mixing forks begin working, forcing to lay off materials into molding box, to ensure the smooth baiting and uniform distribution of materials. The uniformity of bricks' strength and weight is very high.
B. Hydraulic system, computer controlled, to realize vertical synchronous vibration, frequency conversion and brake, so as to ensure the high strength and high density of bricks in short time.
C. Equipped with different molds, it can produce various bricks of different shape and specification.
Available raw material: crushed stone, sand, cement, dust and coal fly ash, cinder, slag, gangue, gravel, prelate and other industrial wastes.