Product Detail
Product Tags
Buyer Reviews
we sincerely welcome customers all over the world to cooperate with us. for Sand Dryer Price,Sand Dryer Machine,Sand Dryer Design. Our Organization Core Principle: The prestige very first ;The quality guarantee ;The customer are supreme.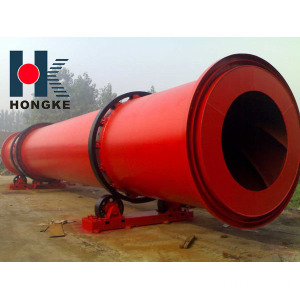 Brief Introduction Of Three Cylinder Sand rotary dryer
Sand rotary dryer
is mainly applied for stoving slag, sand, coal, fly ash, iron powder, ore, quartz sand and other particle materials. It has the following characteristics:
1. The cylinder protect itself, thermal efficiency can up to 95%.The whole length of the dryer reduced to 50% approximately than mono-cylinder and reduced land investment to 50% approximately
2. Cylinder adopts heat-resistant and wear-resistant steel plate welding with long service life and easy maintenance..High thermal efficiency , temperature of outer cylinder is 60or below(temperature of outer mono-cylinder is high to 150C
3. Low temperature of outlet, long-service of dust removal machine. It also can be directly connected to air box pulse bag filter.
4. Without gear and pinion drive, but wheel rotation applied, level operation of the complete machine makes system simple and reasonable.
5. Air heater could match boiling furnace, or oil furnace can also be applied, which can dry materials with size below 20mm.
6. Final moisture index can be adjusted according to requirements of customers.
Applications Of The Three Cylinder Sand dryer
Industrial Dryer have many applications but are most commonly seen in the mineral industry for drying sands, limestone, stones and soil, ores, fertilizers, wood chips, coal, iron sulphate, filter cakes, sewage sludge, etc
Drum or Shell Variations Of Three Cylinder Sand dryer
A
Industrial Dryer
can consist of a single shell or many, though any more than three drums is not usually necessary. Multiple drums can reduce the amount of space that the equipment consumes. Multi-shell dryers consist of several concentric tubes. Multiple shells allow the dryer to be utilized in a more compact space. The drums are often heated directly by oil or gas burners. The addition of a combustion chamber on the entry end helps ensure efficient fuel usage, and that homogenous drying air temperatures. As the material moves through the rotating drum is heated and moisture released. Some dryers also offer the option to cool, clean, shred, and/or separate the dried material.
Combined Processes Of Three Cylinder Sand dryer
Along with drying Industrial Dryer have the ability to increase their economy by combining other process needs with drying. Other processes that can be combined with drying are
Technical parameters Of Three Cylinder Sand dryer
Model

Shell diameter(mm)

Shell length (mm)

Capacity(t/h)

Power (kw)

Ore slag

Flyash

Clay

Yellow sand

HK2.0×4

2000

4000

5~10

4

4~6

10~15

11

HK2.0×5

2000

5000

10~15

6

6~8

15~20

11

HK2.5×5

2500

5000

20~25

8

8~12

20~25

15

HK2.5×6

2500

6000

25~30

10

12~15

25~30

15

Hk2.8×6

2800

6000

30~35

15

15~20

35~40

22

HK3.0×6

3000

6000

35~40

20

20~25

40~45

30

HK3.0×7

3000

7000

40~45

25

25~30

45~50

30

HK3.2×7

3200

7000

45~50

30

30~35

50~60

44

HK3.2×8

3200

8000

50~60

35~40

35~40

60~70

44

HK3.6×8

3600

8000

60~70

40~45

40~45

70~80

60

HK3.8×9

3800

9000

70~80

45~50

45~50

80~90

60

HK4.0×10

4000

10000

80~90

50~60

50~60

90~100

74
We can easily normally satisfy our respected buyers with our excellent high-quality, excellent selling price and good service due to we've been far more expert and more hard-working and do it in cost-effective way for High Quality Three Cylinder Sand Dryer. The product will supply to all over the world, such as: Switzerland,North Korea,Botswana. Welcome any of your inquiries and concerns for our products. We look forward to establishing a long-term business relationship with you in the near future. Contact us today. We are the first business partner for you!