Wood chip (sawdust) is a kind of biological fiber organic matter with water content of about 50%. It demands that the general moisture content after drying should be 10-15%. The main moisture content is free water and biological water, free water is easy to remove, but biological water is difficult to remove.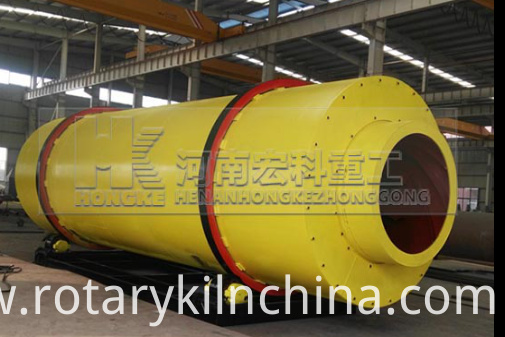 The wood chip dryer of Hongke is specially designed and manufactured for drying various wood scraps, sawdust, small wood chips, wood skins and other wood materials. Of course, the dryer can be used in a wide range of powder materials such as wood chips, wood chaff, wood flour, bamboo powder, bagasse, rice husk, sawdust, shavings and other materials drying. It can also be widely used in: fuel plants, fertilizer plants, chemical plants, pharmaceutical plants and other industries. The wide drying range greatly enhance the charm of wood chaff dryer. Choose a kind of equipment for the benefit of a variety of materials. The equipment has the characteristics of large drying output, remarkable energy-saving effect and low maintenance.
Working Principle of Wood Chip Dryer
Wood chips, sawdust materials are transported by belt conveyors to closed air feeders and burned in hot air stoves. The generated high temperature gas enters the dryer through a fire isolator, the raw materials enter the drum dryer through a screw feeder, and rotate at a low speed. The bending plate disperses the material, so that the high temperature airflow passes through the material, and then the suction of the fan pushes the material forward, and the material is discharged from the fan by the other end through the Shackelong.
Performance Characteristics of Wood Chip Dryer
1. The thermal efficiency of self-insulation of cylinder is more than 70% (the thermal efficiency of traditional single-barrel dryer is only 35).
2. Compared with the single barrel dryer, the area is reduced by about 50%, the construction investment is reduced by about 50%, and the power consumption is reduced by 60%.
3. A variety of circumferential materials combination distribution, effective control of drying time, drying effect is good.
4. The final moisture content index can be easily adjusted and controlled according to the user's requestby using frequency conversion speed regulation to control the material flow.
Technical Parameters of Wood Chip Dryer
Project Unit

φ2.0×6m

φ2.5×6.5m

φ2.7×7m

φ3×7m

φ3.2×7m

φ3.6×8m

φ4.2×8.5m

Outer Tube Diameter (m)

2.0

2.5

2.7

3

3.2

3.6

4.2

Outer Tube Length (m)

6

6.5

7

7

7

8

8.5

Volume of Cylinder (m3)

18.84

31.89

40.5

49.46

56.26

81.38

118

Cylinder Speed (rpm)

3-10

3-10

3-10

3-10

3-10

3-10

3-10

Material Residence Time (min)

12-30

12-30

12-30

12-30

12-30

12-30

12-30

Raw Material Moisture (%)

6-25

6-25

6-25

6-25

6-25

6-25

6-25

Final moisture content of material (%)

≤1

≤1

≤1

≤1

≤1

≤1

≤1

Maximum Intake Temperature (℃)

750-900℃

750-900℃

750-900℃

750-900℃

750-900℃

750-900℃

750-900℃

Productive Power (T/H)

Slag

20-25

25-30

30-35

35-10

40-45

50-65

70-85

Coal Ash

10-17

17-21

20-25

23-27

25-30

30-45

45-63

Yellow Sand

20-27

25-40

27-45

30-45

35-50

55-75

75-99

Motor Model

Yr160m-4

Yr132m-4E

Yr160m-4

Yr160m-4

Yr132m-5E

Yr160m-4E

Yr160m-4E

motor power (kw)

7.5×2

11×2

7.5×4

7.5×4

11×4

15×4

18.5×4

Reducer type

XWD-6

XWD-6

XWD-6

XWD-6

XWD-6

XWD-8

XWD-8

Reducer Speed Ratio (I)

17-29

17-29

17-29

17-29

17-29

17-29

17-29

Weight of Equipment (T)

25

32

35

38

43

57

77
Looking for ideal Wood Chip Dryer Manufacturer & supplier ? We have a wide selection at great prices to help you get creative. All the Wood Sawdust Dryer are quality guaranteed. We are China Origin Factory of Wood Shaving Dryer. If you have any question, please feel free to contact us.
Product Categories : Rotary Dryer