Product Description
Hongke produces Rotary Kiln for limestone with the diameter1-5 meters, widely applies in the metallurgy, the chemical industry, bears professions and so on material, Ceram site, papermaking. This kind of kiln`s supporting is divided into two forms of rolls and skids, the transmission may use direct-current or the exchange frequency conversion velocity modulation, and has many kinds of form seals to adapt the different operating mode.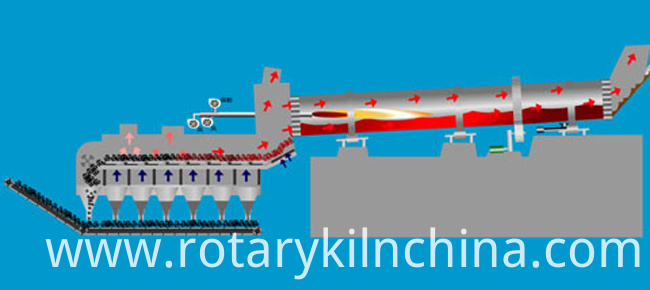 Hongke could also meet different needs from different customer to produce Non-standard
rotary kiln
. Rotary kiln is composed of cylinder, gears, supports device, kiln liner and kiln tail sealing equipment, kiln head hood, and combustion. Cylinder as heated pivoting part, made of high-quality carbon steel plate, is supported on the first or some gear in order to control the turning of cylinder. Gearing gyrate according to process-required rotating speed by ring gear in the middle of cylinder. Because of the need of installation or maintenance, bigger rotary kiln has auxiliary gears, which makes cylinder gyrate more slowly. To prevent cold air come in and dust overflow, the reliable kiln tail and head sealing equipment is installed on feed and discharge end.
Rotary kiln is thermal equipment to heat materials. It is widely used in the fields of cement, nonferrous metallurgy, ferrous metallurgy, refractory material, chemical, and making-paper.
Product features:
1. Support device: advanced shaft structure, automatic temperature measuring device and electrical heating.
2. Catch wheel: including two kinds mechanical wheel and hydraulic pressure.
3. Gears: single or double. Control the rotating speed by variable motor, DE machine and frequency variable motor. Be reliable, energy –saving, and efficient.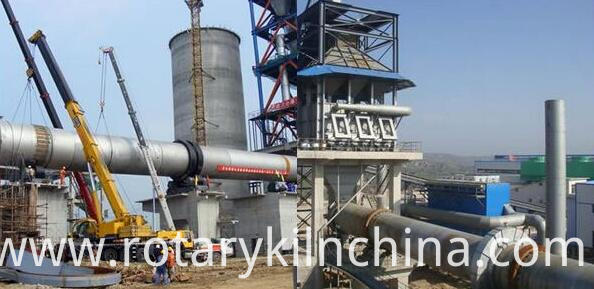 4. Cylinder tyre bolster: lower bolster has three types: fixed, zoom and floating. The structure is simple, replacement is convenient and won`t hurt cylinder.
5. Sealing equipment: there are many kinds for choice according to kiln models, including air cylinder edge sealing, spring edge sealing, and graphite block sealing and combination for above. The feather is adaptive for cylinder rotating and swing. And sealing effect is very good.
6. Kiln head hood: including stationary type and flexible type.
Working principle:
Rotary Kiln for limestone
is usually working as following : The kiln is a cylindrical vessel, inclined slightly to the horizontal, which is rotated slowly about its axis. The raw material to be processed is fed into the upper end of the cylinder. While the kiln rotates, material gradually goes down towards the lower bottom, and may undergo a certain amount of stirring and mixing. Hot gases pass along the kiln, sometimes in the same direction as the process material (co-current), but usually in the opposite direction (counter-current). The hot gases may be generated in an external furnace, or may be generated by a flame inside the kiln. Such a flame is projected from a burner-pipe (or [firing pipe") which acts like a large bunsen burner. The fuel for this may be gas, oil or pulverized coal.Looking for ideal Rotary Kiln For Limestone Manufacturer & supplier ? We have a wide selection at great prices to help you get creative. All the Limestone Rotary Kiln For Lime Industry are quality guaranteed. We are China Origin Factory of Limestone Rotary Calcining Kiln. If you have any question, please feel free to contact us.
Product Categories : Rotary Kiln